Best Real Estate Software for Builders & Real Estate Agents
Finding the best Real Estate Software for your business is now faster and easier! Compare prices, reviews, features, and get free consultation to find the perfect software.
All Software
Buyer's Guide

Builders and real estate developers are increasingly facing challenges in meeting stipulated deadlines while delivering a project. There can be many foreseen and unforeseen issues that can interfere with the timely execution of a project. When this is damaging to their reputation, it also increases the cost and risks associated with it. Real estate business software applications are designed to mitigate such issues by allowing real estate vendors in managing all aspects of their complex business requirements from an integrated platform.

The demand for real estate developments is rapidly increasing along with fast urbanization. Real estate CRM software developers are now required to deliver multiple projects within a short period of time, which have made the project execution process complex. Real estate agency software is designed to facilitate pre-project and during project execution planning, cost and risk management through efficient forecasting etc. The primary function of these applications is to make project management process easier. The basic highlights of real estate software are listed below.
Managing multiple projects from a single platform

Reducing stakeholder risk

Budgeting, cost monitoring and better management of finance

Reducing risks and improving profitability

Designed to serve building lifecycle of the user

Document management and reporting

Timeline management

Bidding
Both on-premise and hosted software solutions are available in abundance. Software vendors are offering real estate management software for large as well as small builders. The key is to select the right size application that will support intrinsic business requirements, easy to integrate and install, flexible and scalable to changing business needs. Our listing service lists realtor software pertaining to your specialized industry where you can check, learn and compare the different software applications available.
The section of real estate software lists specialized software appropriate for builders. If we are to suggest a few names, those would be – iGreen T.FAT Build, BuilderPlus, Highrise etc.
Competition nowadays has intensified between real estate developers as everyone is trying to grab hold the first attention of customers. Real estate software development, when is a lucrative business, also involves plenty of risks. Real estate management software facilitates the amalgamation of different complex aspects of the construction business by offering an integrated dashboard to users. Most software of the type offers to bid to billing solution so that the whole process can be managed from a single platform. Today, where most builders strive to complete multiple projects within a short period of time it is important to be able to manage the day-to-day operation from a consolidated platform.
To a construction business owner, real estate agent & developer, benefits of a real estate software are multi-dimensional. Most applications of this category have the following features.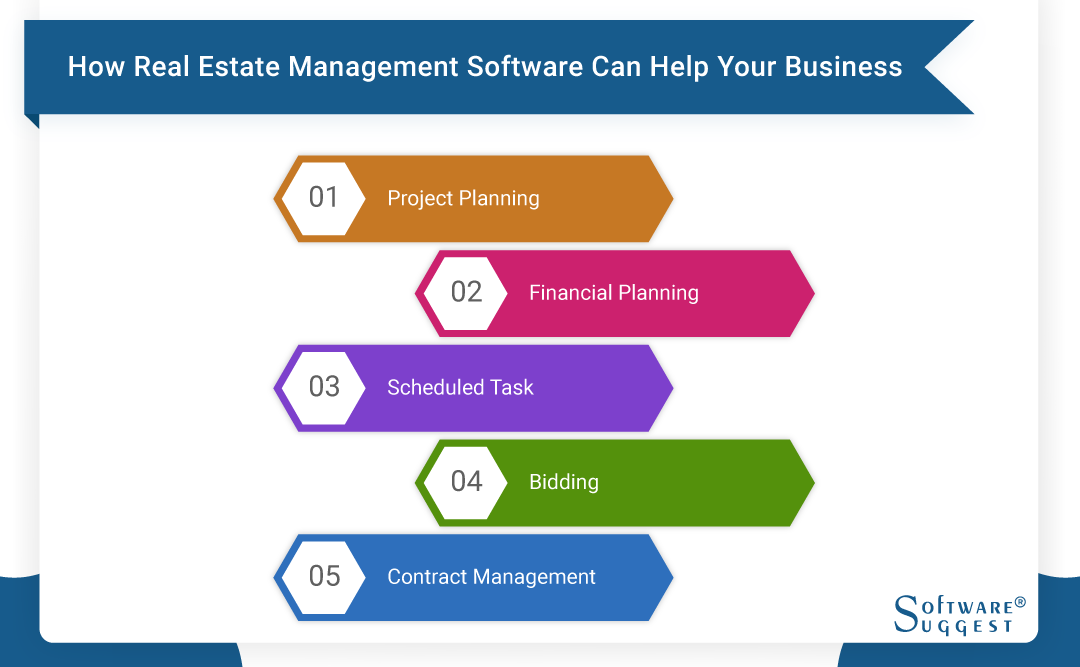 1. Project Planning:
Construction projects normally involve a large investment. The real estate management system is, therefore, imperative to lay down a proper project execution plan to make the process smooth and hassle-free. It also helps towards mitigating risks and delayed deployment.
2. Financial Planning:
Large involvement of fund also needs proper management and planning and hence, these applications integrate with a financial management module that allows users to keep track of receipts and expenses and ensure transparency at every level.
3. Scheduled Task:
Schedule tasks and check progress from a consolidated dashboard. Receive daily updates and measure project execution percentage for the timely delivery. See all open issues and steps taken to address the problem all from one platform.
4. Bidding:
Check vendor bidding status. Most applications will allow you to check, schedule and attach a document to the bidding process along with providing with a list of vendors who have been invited to bid.
5. Contract Management:
Manage contract documents and also track changes in contract terms and condition. Real estate ERP software allows a collaborative platform from which all documents pertaining to all open and closed projects can be managed. The user can also set the permission level for users to view, access and edit documents.
In the present world, with the increase in population, there is also an increase in the rise of accommodation. All over the world, people are investing their ventures into the real estate's as it is one of the fastest-growing industries at present. All the construction sites and real estate projects are increasing tremendously day by day. Presently, there is the real estate management software which eventually provides the real estate with a complete solution in order to manage their property peacefully and handling them with great efficiency and effort.

Real estate management software are of great help. The major portion of the work of the real estate transaction management software is to offer functionality for takeoff, estimating the cost, managing the project properly, document management, service management, and accounting. The real estate database software works under different features such as: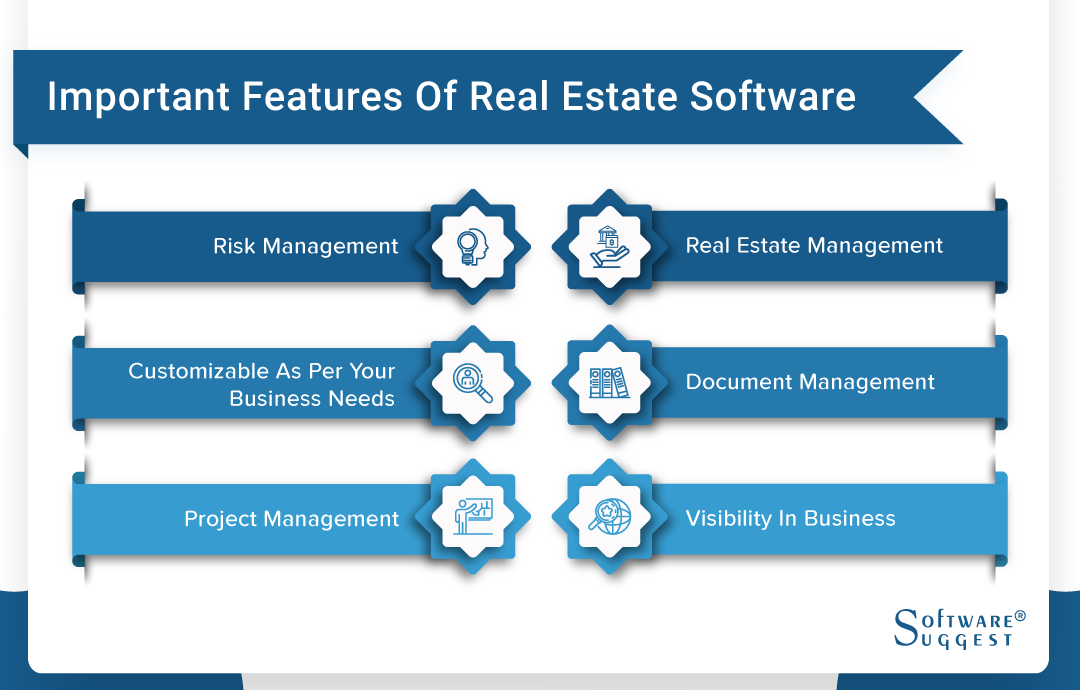 1. Risk management:
Using the particular real estate property management software it will help the users to minimize liability in the field of tracking of lien waivers. The labors who all are working at the construction site undergo different risks factors. In that case, you can explain to them the risk management process thus reducing their tension.
2. Customizable as per your business needs:
Using the real estate ERP software will eventually provide the organization that much freedom to define their accounting, operations and procurement processes. The job is much simpler as it can be customized as per own necessity.
3. Project Management:
With the help of real estate software the users can easily decrease their own risk factors and thus can eventually increase their productivity and profitability. The organizations can easily detect the problem and solve it before it's too late.
4. Real Estate Management:
The users will get the details of all their documents and they get the opportunity to manage their entire property with improved communications. They can also offer their organizations inflexible lease options and can eventually make a profit.
5. Document Management:
Using real estate management software the users will have great control over the documents and undergo a clean audit trail thus reducing the risk factors.
6. Visibility in business:
If the user wants then the person can easily take control by defining the information the organization requires and the way to access and also regarding the business decision and the profit charts.
As a result, all the features of the construction management software eventually help the organizations to work peacefully, attain profit and also reducing the various risk factors.
Real Estate Software Related Articles:
Showing
1
-
25
of
385
products
Tally.ERP 9 is a business accounting software for accounting, inventory, payroll management. It is economical and one of the most popular ERP software solutions available in the industry. You can download free version of Tally.ERP 9. View Profile
#1
ORION Enterprise is a dynamic enterprise resource planning solution that allows organizations to smoothly integrate disparate teams, functions, processes, and systems. 3i Infotech is a global Information Technology company committed to Empowering Business Transformation. View Profile
#2
Sell.Do is a CRM exclusively designed for real estate businesses. The platform provides end-to-end sales and marketing automation solutions for all kinds of property builders and has been designed with an in-depth understanding of the real estate business workflow and processes. More than 600 real estate companies have used the software and have witnessed higher sales and lower marketing costs. View Profile
#3
StrategicERP real estate management system provides an end-to-end business solution specifically tailored to cater to the needs of Real Estate and Infrastructure Industries with the modularized and innovative technology created by IITians. View Profile
#4
RSquare real estate software is exclusive real estate web application & mobile app for real estate agents. RSquare realor software takes real estate brokers from 'broking' to 'consulting' as brokers now maintain every property and inquiry in a single application. View Profile
#5
BrokerMint is a Real Estate back office software. It is complete easy-to-use real estate back office platform. Integrate Brokermint with MLS, CRM, and QuickBooks, seamlessly. View Profile
#6
Bhoomi real estate business software is a complete integration of systems across departments in real estate firms. It is a fully integrated system that can also be modularized to streamline, automate business and operating processes and smoothen business decisions. View Profile
#7
Real Builder By Dataman is a complete real estate ERP software designed to meet the ever growing demands of real estate industry. It is a highly useful real estate management software for real estate developers, builders, contractors, and infrastructure developers. View Profile
#8
Astral Real Estate Management System is a Platform for Builder/Developer to help them to manage all their organizational data on one platform, It provides them a one-point solution for managing Projects, Payments, monitoring activities happening at a different level. View Profile
#9
In4Suite® provide a comprehensive and complete real estate solution for the end users. This software can also be bought and run in modules which can be added on as a plug-and-play architecture. View Profile
#10
Highrise is first Construction ERP Software in India; a specialized internet ready software solution popularly known as ERP for Construction, Contracting & Real Estate industries. Real estate ERP software solutions encompassing all the functional departments of the enterprise. View Profile
#11
DaeBuild CRM empowers Builders with an end to end Sales Automation and Customer Engagement Software thus elevating complete sales and customer management process. It is the most powerful Pre Sales and Post Sales system designed for Indian Real Estate Builders. View Profile
#12
iGreen T.FAT Build provides specialized real estate solution for industries like Builders, Contractors, Project managers, Assets/Equipment Managers etc. It helps you attain optimized results when you bid, manage and bill your jobs. View Profile
#13
Experience world-class technology that is built to make your community living more convenient and more secure. It's easy to use, available in all local languages and made for all! View Profile
#14
Intellika's Real estate CRM provides easy access to brokers, agents and the customers data in an understandable format thus by ensuring that all participants in the ecosystem are satisfied. Our strategy, solutions and services, meets our client expectation and solve business challenges by business process re-engineering, innovation and by bringing operational efficiency. View Profile
#15
DunesFactory deals in developing marketing tools to help small businesses, as well as large enterprises, take their business to the next level. Right from choosing the domain to the last step of publishing your product, it offers support at each level. View Profile
#16
Veprotech real estate software is a complete solution for all real estate business. Now managing your sales, marketing and client retention team is just an easy task. This property management software will help you for tracking projects activities. View Profile
#17
IntellioCRM is Cloud based CRM Software for Real Estate Industry. you can Grow your Property business with the help of CRM Software. CRM software for Real Estate Agent Only. View Profile
#18
MobileERP365 Software – This is free construction ERP software on Cloud with chargeable services. Yes unbelievable, but yes this is true. With CloudERP your are not going to spend on real estate ERP Software. ERP Software which other companies spend THOUSANDS of dollars comes free for you. View Profile
#19
ConstroSoft is for builders, suppliers, contractors and real estate companies. ConstroSoft provides Enquiry Management, Project Management, Manage Flat/Plot/Shop/Office Space Booking, Sales & Allocation, Payment Management, Employee Management, Document Management and Reporting. View Profile
#20
BlueDolphin is a leading construction management system widely adopted by the construction industry. The product enables medium to large construction companies manage all aspects of construction management including Tender Preparation, Project Management, Accounting, Billing, Asset Management, Procurement and HR. View Profile
#21
Binary Real Estate ERP Software is with the leading technology and business Solutions for the Real Estate industry locally and regionally. Real Estate ERP has pioneered the concept of on-demand, totally web-based applications for real estate. View Profile
#22
Q Lite is a smart and concise construction ERP software and is focused at small to mediums sized real estate companies. Q Lite integrates all major activities and monitors entire processes on a continuous basis. It is a functional software package, which automates work flow between departments with built-in control. View Profile
#23
Farvision ERP applications helps the companies integrate all data and processes in a single comprehensive manner. This software would streamline all managerial, financial as well as operational facets of the business. View Profile
#24
T3 CRM for Real Estate is very rich in functionality and is an industry specific product. The build in process at each level of modules makes real estate very easy for the user to move to the next level of cycle in a much easy way. View Profile
#25
Frequently Asked Questions (FAQs)
A.

Real estate software

is a set of programs that automates routine tasks and helps manage the entire deal cycle. From taking care of initial request through matching listings to negotiations and closing, it simplifies and streamlines every process.
A. It should integrate with contacts, calendar, document management, and email archiving system.
A. You can choose from Placester, Salesforce, Grasshopper, Cloud MLX, Homesnap, RSquare, etc.,
A. The common users are builders, contractors, agents, investors, landlords, property managers, small and medium-size infrastructure companies.
A. You can buy Rentec, 360Workplace, Appfolio, Buildium, Planon, TRIRIGA, Entrata, Hemlane, etc.,
A. You can cut costs, save time, gain analytical insights, and secure sensitive information with cloud-based solutions.
A. It provides the latest technologies that integrate workflows, streamlines processes, and manage data.
A. You can generate leads, manage contacts, schedule visits, edit videos, perform market analytics, produce rental listings, and credit reports.
A. The current trends are cybersecurity, cloud services, tech-based operations, goal-oriented property management, virtual reality tours, and 3D property rendering.
Real Estate software in following industries