List of Inventory Management Software and tools for your business
Finding the best Inventory Management Software for your business is now faster and easier! Compare prices, reviews, features, and get free consultation to find the perfect software.
All Software
Buyer's Guide

The fundamental Function of stock & inventory management is to allow organizations to track, store, sort, and organize their stock levels. Inventory software facilitates the logistical management of stock and items and can enhance processes related to ordering, transportation, storing, assembly, dispatching, and delivery.
Also used as a warehouse management software, it could be utilized across commercial enterprises from production to sales by manufacturers, wholesalers, and retailers. Characteristics of these products consider more effective recording and maintenance of stock levels, quality control, sorting by distinctive item types, tracking the last shipment of products, and organizing recurring requests.
Inventory Management Software can help organizations to avoid problems, for example, over-ordering and over stockpiling expenses. They can help to ensure raw materials are constantly in inventory software, monitor how much time a product stays in different areas, and follow product transportation.
The inventory management system is gainful to organizations that deal with huge amounts of items, allowing them to focus their efforts on enhancing and analyzing different regions of the business. It is so helpful for small entrepreneurs and retailers who need a clearer review and more control over their product flow.
While businesses of all sizes that sell physical products require robust warehouse management software in place, some industries simply can't ignore the benefits of powerful inventory management. Let's take a look at businesses that can be best benefitted by using an inventory management system.
Food Distribution

Food distribution businesses cater to the needs of restaurants, schools, supermarkets, and more on a daily basis. It is essential to keep an accurate track of the stock and inventory status. Having an over-filled inventory can lead to spoiled food, whereas empty inventory can cause financial setbacks. Stock maintaining software ensures accurate management of inventory and forecast of demand levels.

Ecommerce

Ecommerce businesses need to deal with global distribution and round the clock order processing, which makes effective inventory management a critical requirement. The best inventory management software helps eCommerce providers synchronize their inventory across multiple channels and get accurate real-time updates and visibility.

Consumer Goods

Inventory management can pose a challenge for physical retailers in the consumer goods industry. These businesses are always subject to volatility in demands and seasonal changes. However, well-implemented inventory management can help consumer goods providers optimize their inventory management processes and improve their supply chains.

Electronic Devices

Electronic items can be difficult to deal with; individual units costing a few bucks to thousands of dollars. Therefore, accurate forecasting is essential, not only about monitoring inventory levels but also other things like location and customer management. Having the right inventory management system in place ensures every phase of the inventory is efficiently handled.
Inventory management software helps a lot in streamlining the operations and goes beyond in-house inventories. Nowadays, they help you to track whether the products have reached your customers and even give you an idea of what items are selling more than the other. Here is a rundown on the essential features seen in the warehouse management software:
Ease of Use

Inventory software free is easy to install and is configured well on your operating system. With step by step instructions, the software gets installed in a jiffy.

Compatibility

Most of the inventory control system is compatible with the Windows operating system which is used by most of the companies. This makes it the most preferred software for commercial as well as non-commercial small and medium based businesses.

Data Storage

The software keeps storing the data over a period of time. This means that you just have to keep adding the essential items on the list without worrying about losing the previous data

Ease of Access

The best part about the inventory software is the accessibility. Your employees also can use the software without any interference

Customization

Inventory software solutions allow you to create prints of the data and even customize these prints according to your needs. Multiple prints of the same data in a different manner are also possible.

Excel is Now Outdated

Excel doesn't help in tracking the inventory since it has to be created manually. This makes the software a good choice that allows automation of the entire inventory process.

Integration

Certain accounting software is integrated with inventory software free. This helps the businesses to enable their financial and inventory process smoothly administered.

Mobile Accessibility

Certain free inventory software system is available on the mobile too. They are made on a responsive design platform. This means that these software are designed to be used on PCs, tablets, and mobiles.

Security

The inventory management system for small business comes in different users' accessibility. As a business head, you can assign roles as to how much access your employees or team members have to the inventory data. This compartmentalizes the editing or inputs of each of the employees in accordance with their work.
Many of our customers get confused about whether to opt for online or offline free inventory software. With that in mind, here are a few points that will help you in taking the right decision on which type of warehouse management software to choose:
Managing Inventory Online:
1. The company's inventory can be managed online from anywhere if you have a laptop with an internet connection and store management software.
2. No need to upgrade or install the software. It is done remotely using servers that save both times as well as expenses.
3. Allow access to multiple accounts to manage inventory at the same time.
4. Ensures Data security on servers that features firewalls & security programs.
Managing Inventory Offline:
1. Most offline inventory management software cost extremely high. The hardware costs could add an expense over it which is just a one time cost solely.
2. Limited to a single user at a time.
3. Inventory data might be lost if the computer that manages the store management software crashes.
You need to have products available to meet your customers' demands and also not overstock or understock any particular product. So, instead of relying on your memory, your inventory management software and warehouse management software help you in making better judgments.
Benefits:
Efficiency

The inventory management system gives you a complete picture of all your products without the tedious process of counting each of them. Also, you get an accurate account of all the products at different locations without going there personally.

Money Saver

You can keep a track of all your products and inventory control system software helps you by giving details about products that are hardly sold thereby enabling you to choose products to be discounted. Products that are sold most of the time are restocked quickly to maintain the demand.

Customer Satisfaction

Right from the time the product is stocked until it reaches the customer, each stage is entered in the inventory management. This particular benefit is clearly seen in online retail sales where the customers are even updated on the tracking code of products ordered.

Add-Ons

The free inventory software gives the most accurate status of the products stocked. Some also give their price list and more advanced ones even generate individual barcodes of each of the products. This makes the entire inventory process smooth going.

Future

Every business poised for growth entails an expansion in the inventory list; making the inventories more complex than before. In spite of this change, the inventory system can still work very well for your small business.
Drawbacks:
Seamless coordination between the suppliers and retailers is a must, information has to be updated and sound technology has to be in place. This might not be possible at all locations

If the new information is not updated in the store management software or there are too many products then there could be problems of making any useful decisions regarding products
Most companies implement inventory management software to mitigate their carrying expenses. The software is used for tracking the complete supply cycle of a product or item, i.e., from a vendor to warehouses to the retailer and finally to the customers. Depending on your requirements, you can be one of the following types of warehouse management software buyers.
You want to maintain a balance between an over-filled and empty inventory.

You need to track inventory as it is transported between vendors and warehouses.

You receive items at other locations and warehouses.

You keep track of inventory levels and product sales

You pack and pick items from the warehouses

You want to cut down spoilage

You don't want to get stuck in out-of-stock situations and miss out on sales.
If you are a manufacturer, stock maintaining software can help you create bills of materials and work orders. It enables you to effectively assemble the parts and tools required to perform specific tasks. These systems also support complex manufacturing tasks; manufacturers can create multi-level bills of materials and work orders. Small business inventory software can also help you track assets, receive new inventory, and facilitate other additional business tasks.
There are several perks of inventory management software that the businesses can enjoy over their rivals that still rely on manual stock management. It saves the time of the retailers, allows them to make better decisions and elevate their business. Some more benefits are listed below: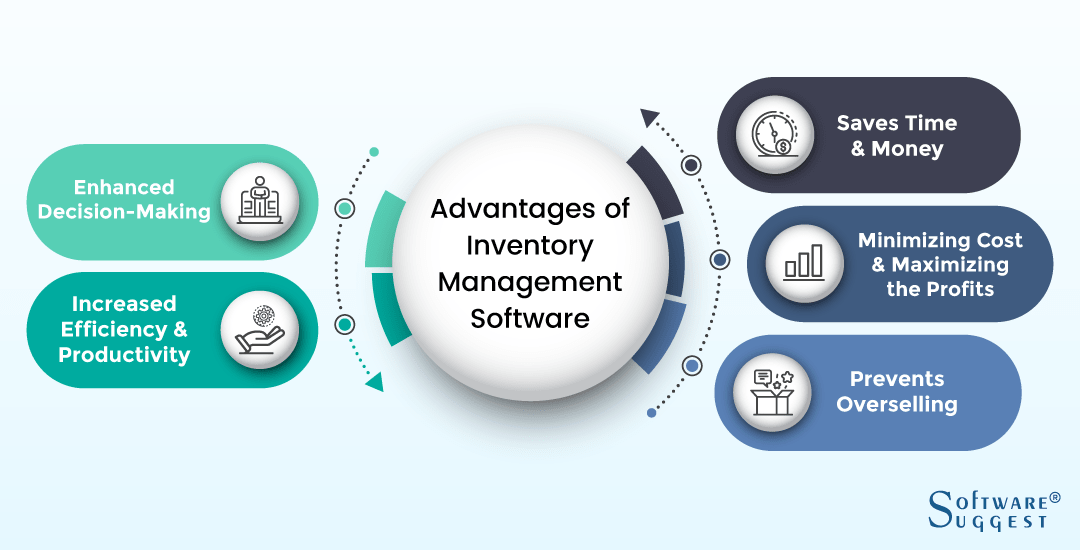 Enhanced Decision-Making

The stock management software provides insights into the levels of inventory, product's performance, profit margins, and other product-specific areas that facilitate the business owners and managers to make better-merchandizing decisions. The owner has access to various store registers from a single dashboard and a change made on his dashboard is immediately reflected in all the synched registers.

Increased Efficiency and Productivity

In order to maintain positive cash flow and to keep the business in profit, managing the stock levels is crucial. This is possible by deploying an inventory management system. Not just this, but the software provides access to analytics and reports pertaining to the product. This analytics allows you to analyze which products sell faster and you can get more information about the ongoing trends. The software automates crucial processes of the business that facilitate making smart decisions which in turn, leads to enhanced productivity as well as efficiency.

Saves Time, Money, and Even Sanity

One of the greatest perks of an inventory management system is that the management of stock becomes a hassle-free process. Since most of the tedious stock management tasks are automated, it saves human efforts, time, and even sanity. It helps the businesses in effectively maintaining the stock levels with the fluctuation in demand and supply. The inventory management software offers enhanced visibility into the shelves of the stores so that the managers and the store owners know about the products that need to be restocked in advance.

Minimizing the Cost and Maximizing the Profits

The stock management software has the ability to automate all the key operations of the business. So, the managers are able to manage the stock levels, update listings across all the stores, and make reorder requests more efficiently and effectively. This reduces costs and maximizes profits.

Prevents Overselling

One of the most common blunders that businesses commit is overselling their products. However, with the inventory control system, all the e-commerce stores and marketplaces are synchronized, which facilitates adjustment of the stock levels with each sale in real-time. This prevents the situation of overselling.
Most of the small and medium enterprises think that they can manually maintain their stocks. So, they refrain from using inventory control software as they think it gets affixed to their operational cost unnecessarily. However, they find it a challenge in managing their stocks effectively when they witness a sudden boom in their business. It is then that they rush to get inventory management software integrated into their system but at times, they get too late to do so. Thus, it is important for businesses to realize this need at the earliest in order to reduce the losses that come with improper stock management.

Every business can realize the need for inventory management system at an earlier stage if they lookout for these 3 signs:
Frequent Low Stocks

During the time of festivities and other occasions, every company finds it difficult to identify their inventory needs and it is totally possible that they may run out of stock. However, if a business is running low on stock all year round, then this is a clear indication that your staff members cannot make a precise judgment and it's time to rely on the stock management software for the same.

The inventory software will provide a much better prediction on the amount of product that would be required to meet the demands. Furthermore, you can even restock the products on time as the software gives notifications regarding low stocks in advance. It also allows the business to understand the sale trends so that they know about their popular products and they can increase their quantity to meet the escalating demands.

Excessive Stock

When an SME grows, there are chances that the stock managers may over-order the products if they are managing the inventory manually. It becomes difficult for them to analyze the sale trends with manual management, so they might order large quantities of every product instead of ordering large quantities of only the popular products, and this makes a huge difference.

If managers fail to make precise predictions, it leads to redundant stocks that result in financial loss. Thus, if you are witnessing obsolete stocks, then it is an indication that you need to get a warehouse management software.

The stock maintains software keeps a track on the inventory & sale, shows the sale trends, and gives information about those products that are not so popular so that you can avoid reordering them.

Unable to Understand the Stock Levels

It is important at all times that a manager/owner should have a clear detail of his stocks as that only allows him to meet the needs of the customers. If you are unclear about the stocks of your company, then you should consider it as a sign to download inventory management software. With the software, you don't need to count your products manually and you can easily manage your stock levels. You deliver the products to the customers on time without making any last minute orders that may put you in a situation of loss.

For small and medium enterprises, data & statistics and their reliability are imperative and it is the thing that keeps them thriving. That is why they need inventory software. The software provides them useful insights that can be easily translated to profits. There are various reasons that illustrate that a small inventory management system help brand sell more:
It Grows with your Store

The small business inventory software facilitates scalability. The companies can easily expand their business by adding new products, new variants, new designs, new categories or even allowing their products to be sold in different regions seamlessly.

It allows you to Operate on Other Channels and Enter New Markets

The expansion is a part and parcel of every business, especially SMEs. With every expansion in terms of channel and region, a company has to update its stocks after every sale if it is doing it manually. This makes it a tedious process and affects the productivity of the business. However, if you are using cloud-based small business inventory software, then it automatically syncs your inventory with new channels so you can easily manage everything.

It Eradicates the Errors made While Fulfilling Orders

In the case of the manual inventory management system, the businesses often tend to send the wrong order to the customers. This leads to financial losses and it even leaves a negative impression on the customers. However, in the case of inventory management software, it takes the data of your customer immediately after the order is placed and a shipping label is prepared.

It helps in Visualizing the Business Performance

The stock maintains software is not just a software to maintain stock levels, but it is much more than that. The inventory control software has a dashboard that shows the performance of the sales. The managers/owners can visualize the amount of sale and even the revenues generated from each channel using the software. This gives you a clear picture of your business.

Easy Access

An SME owner has a lot to do on a day-to-day basis. He is always on the go, so he prefers cloud-based systems. In such a scenario, cloud-based inventory software gives an edge to the owner. With the software, he can manage the orders & stocks, talk to the customers, and even change the status of the orders online.
Integrating Multiple Channels

Software manufacturers are building a multi-channel environment for customers to track the progress of their orders in real-time. With the rising popularity of Omnichannel, it becomes more important than ever to optimize product inventory, its availability, and timely fulfillment.

Integrating Big Data Analytics with Inventory Management Software

Big data will be used to improve inventory planning and management. This optimizes the inventory and helps in space management. Organizations can now store products based on the sales forecast and customer demand trends. Data analytics eliminates guesswork and provides real-time insights to make more informed decisions.

Mobile Trends Continue to Grow

Customers, vendor partners, and businesses opt for inventory management software that can be operated via tablets and smartphones. This helps them access information and operate functions on the go. Roadblocks and intermissions can be observed in real-time and solved quickly. The software will have to be accompanied by integrated experiences for their own teams and end customers, leading to improved efficiency in operations.

The Demand for Cybersecurity is Rising

With increased demand and connectivity of inventory management software, the latest trend of 2016 is to detect threats and its mitigations. With the advancement of technology, cloud, and social media on multiple devices, variables such as systems, data, personal information, and money processed via payment gateways have to be safeguarded. Developers are using self-protecting applications, encryption, and behavior analytics to enhance security. Increased cybersecurity awareness means the customers now want to know the plans were adopted to protect their confidential data.

Adoption of Cloud Technology Continues

Businesses are shifting their systems to the cloud. Applications that needed manual operation are now being moved to the cloud to solve the challenge of infrastructure and the need for labor. Cloud computing results in subscription-based models that are more preferred, businesses pay for features as per their requirement. Especially in the domain of warehouse management and inventory management, cloud technology increases efficiency and results in cost saving.

Multichannel Integration will Become Widespread

Since organizations are adopting big data analytics, it is becoming essential to integrate multiple software into a single database. In the coming time, software systems will have to create a single point of access for transferring information. Such a system will store data from multiple sources and present it in an easily consumable manner. Multichannel integration has given rise to Platform as a Service (Paas) where the user can deal with multiple services on a single platform. This year developers will have to understand how to collaborate all these together.

Increased Demand for Business Intelligence

Business intelligence helps the vendors in better management of their inventory and products in their supply chain. Consumers are increasingly demanding advanced analytics to empower their decision-making process. Business analytics is used by consumers, analysts, and organizations and is presented in easily consumable visuals.

Simplifying Complexities

A trend creating ripples in the inventory management software is to break down complex issues into easily understandable packets. It is a challenge to come up with creative solutions. Instead of long manuals and user guides, software manufacturers are breaking down this information into videos, quick guides, podcasts, and visual content. It is easily understandable and the consumer doesn't need to dig the entire user manuals for specific information.
Showing
1
-
25
of
635
products
Oracle NetSuite ERP is the world's #1 cloud ERP, providing a single unified platform in the cloud to streamline all back-office processes, like accounting, CRM, and ecommerce. View Profile
#1
Bellwether Purchasing and Inventory
Bellwether Purchasing and Inventory is a fully featured eProcurement Software designed to serve Enterprises, Agencies. Bellwether Purchasing and Inventory provides end-to-end solutions designed for Windows. This online eProcurement system offers Vendor Management, Spend Management, Sourcing Management, Invoice Processing, Supply Management at one place. View Profile
Visit Website
Request Demo
#2
Smart Inventory Planning & Optimization
Smart Inventory Planning and Optimization is a cloud supply chain platform for demand and inventory planning, forecasting and supply chain analytics. View Profile
Visit Website
Request Demo
#3
A software that caters all your business needs.An all in one software featuring Sales, Billing, Invoice, inventory, warehouse, GST filing. It is Extremely easy to use. Most reasonably priced software in the market. Free demo available. View Profile
#4
Soutron's single system approach is unique, without compromise. Search and presentation of your archive content to end users and researchers is greatly enhanced by having a single search interface, presented in a search portal branded to match that of your organisation. View Profile
#5
Fourth is a fully featured Inventory Management Software designed to serve Agencies, SMEs. Fourth provides end-to-end solutions designed for Web App. This online Inventory Management system offers Multi-Channel Management, Profitability Analysis, Ad hoc Query, Benchmarking, Performance Metrics at one place. View Profile
#6
Tally.ERP 9 is a business accounting software for accounting, inventory, payroll management. It is economical and one of the most popular ERP software solutions available in the industry. You can download free version of Tally.ERP 9. View Profile
#7
BUSY software is the complete quality inventory tracking software for small and medium businesses. It has been allowing SMEs across geographies, industry verticals and customer division such as FMCG, Retail, Trading, Manufacturing, Distribution, and Service by helping them manage their business efficiently. View Profile
#8
ORION Enterprise is a dynamic enterprise resource planning solution that allows organizations to smoothly integrate disparate teams, functions, processes, and systems. 3i Infotech is a global Information Technology company committed to Empowering Business Transformation. View Profile
#9
Grow your business and streamline your inventory management with Zoho Inventory. Manage multi-channel orders, warehouses, packaging, and shipping, track inventory and integrate with many other applications from a single inventory management software. View Profile
#10
CREST ERP is designed to grow seamlessly with your business. CREST will accommodate additional business process and functionalities as your business scale over time. CREST is a fully integrated ERP product. View Profile
#11
Vyapar is the simplest GST ready Accounting, Invoicing and Inventory management software. It's made completely for a businessman, you don't have to waste time learning it. Just start managing your business digitally like before even with no Accounting knowledge. View Profile
#12
MocDoc HMS digitises all transactions, documents, medical records in Hospitals and Clinics eliminating paper work altogether and provides an online platform that connects General Public with Doctors providing real time, authentic information relevant to their need. View Profile
#13
Oracle NetSuite CRM delivers your business with powerful front-office capabilities in a single, cloud-based CRM solution. Seamlessly integrates with accounting, e-commerce and warehousing. View Profile
#14
TailoBill is designed to facilitate management for EVERY Tailor shop owner, regardless of how complex your business process is. With TailoBill, You can view real-time details like Sales, Orders, Ready Orders, Financial Reports, Date wise workload, delayed Orders, Delivered & Undelivered Items, Expenses and Payment Tracking. View Profile
#15
Simple online Inventory Management Software for business owners to make informed decisions. Run your business with QuickBooks, Anytime - Anywhere. It's one of the best inventory control software for managing a company's inventory. View Profile
#16
Simple Billing software with complete inventory and accounts modules. It's fast, reliable and easy to maintain. Ideal for businesses that have a large number of invoices and deals in 100's of SKU's. Typically used by distributors, retailers and small manufacturers. View Profile
#17
HDPOS is one of the best inventory management software/accounting software. It has ease of use & nice interface. Windows based Billing, Accounting and best Inventory Management Software. It can handle multiple customers by allowing to hold current invoice and pick it later. View Profile
#18
GOFRUGAL is the only complete digital solution provider to retail, restaurant and distribution business. With over 14+ years, they have acquired 25,000+ customers across 60+countries. It has the largest product portfolio like - Desktop POS, Cloud POS, Mobile apps. View Profile
#19
The aim of Marg inventory system is to provide best inventory software which is easy to use and get implemented easily as well as also get customised according to any type of business which saves time and money. View Profile
#20
Oracle NetSuite OpenAir is the world's #1 cloud PSA solution, running all your service delivery and project management processes on a single, real-time platform in the cloud. View Profile
#21
Online ERP software or the Enterprise Resource Planning Software is the most powerful solutions for all the business needs of the present day marketers. It covers all the three arenas of Marketing, managing sales cycle, Purchase Cycle as well as complete stock management. One software makes all the solutions and eases the task. View Profile
#22
Ecogreen™+ is best inventory software for retail business. Inventory management system takes care of all the operations of Retail chains including Sales, Purchase, Order processing, Sales returns (Credit Note), Purchase Returns (Debit Note), Stock transfers (GDN AND GRN). View Profile
#23
Book Keeper is Most Simplified Accounting App available on Windows, Android and iOS platforms. You can generate GST invoices and generate GSTR-1,GSTR-2,GSTR-3B and GSTR4 reports. Also, you can access your data across devices by enabling Sync feature. View Profile
#24
StrategicERP provides an end-to-end business solution specifically tailored to cater to the needs of Real Estate and Infrastructure Industries with the modularized and innovative technology created by IITians. View Profile
#25
Frequently Asked Questions (FAQs)