List of Top Club Management Software
Finding the best Club Management Software for your business is now faster and easier! Compare prices, reviews, features, and get free consultation to find the perfect software.
All Software
Buyer's Guide
Club management software is a set of tools that enables clubs and associations to streamline and automate their day-to-day operations and boost customer service efficiency. Clubs like gym, yoga club, golf center, dance studios, etc. use such software to run their business smoothly.
Businesses are now coming out of the traditional methods and embracing the new technology to manage their club operations.
With the rising competition in the market, leading clubs are looking for ways to provide the best customer experience. One way of doing that is by using a club management solution.
However, its benefits are not only limited to customers but the business owners too. Let us look at the overall benefits it has to offer.
1. Enables Online Scheduling and Registration of Events
Club management solution makes it easy to schedule a tournament, championship, or any other gatherings. It comes integrated with an online calendar where you can update all the upcoming events and can be viewed by all club members.
You can further embed the online registration form widget into your website and/or Facebook channel. This removes the need for members to book their slots over the counter.
2. Increases Efficiency of Membership Management
Manual maintenance of membership records is a tedious task. You can use Excel, but it is not a feasible option for the long run.
When your members are growing, you need a more sophisticated solution to keep track of all your clients. Using a club management solution removes the need to enter the customer data manually. It can directly scan the online/offline form into the system and save all details.
In fact, in many cases, the tool can even notify you if a client's membership is about to expire. With the help of a club management tool, you can create and manage unlimited membership with ease.
3. Helps Drive More Revenue
Top club management software comes well-equipped with promotional tools. You can easily design and schedule a marketing campaign to reach out to more potential customers. Using these tools, you can even launch a targeted, personalized campaign that will encourage both your existing and new members to use your service more substantially.
The more the members join, the more the income.
4. Increases Operational Efficiency
An online club management solution is known to streamline and operate all your daily activities. From signing up of forms to accepting payments, and sending important messages, it automates the entire process online.
It not only saves time and effort but removes the chances of the occurrence of human-made errors and duplication of entries.
5. Maximizes Customer Satisfaction
When you run a smooth operation without any glitch, it directly impacts your customer's satisfaction level. With an intuitive interface, your customers will have no difficulty in accessing their profile on the system. Most advanced solutions offer the client portal whereby customers and staff members can interact.
What's more, it's analytical capabilities can provide deep insights into how your business is performing — whether your customers are happy with your club service.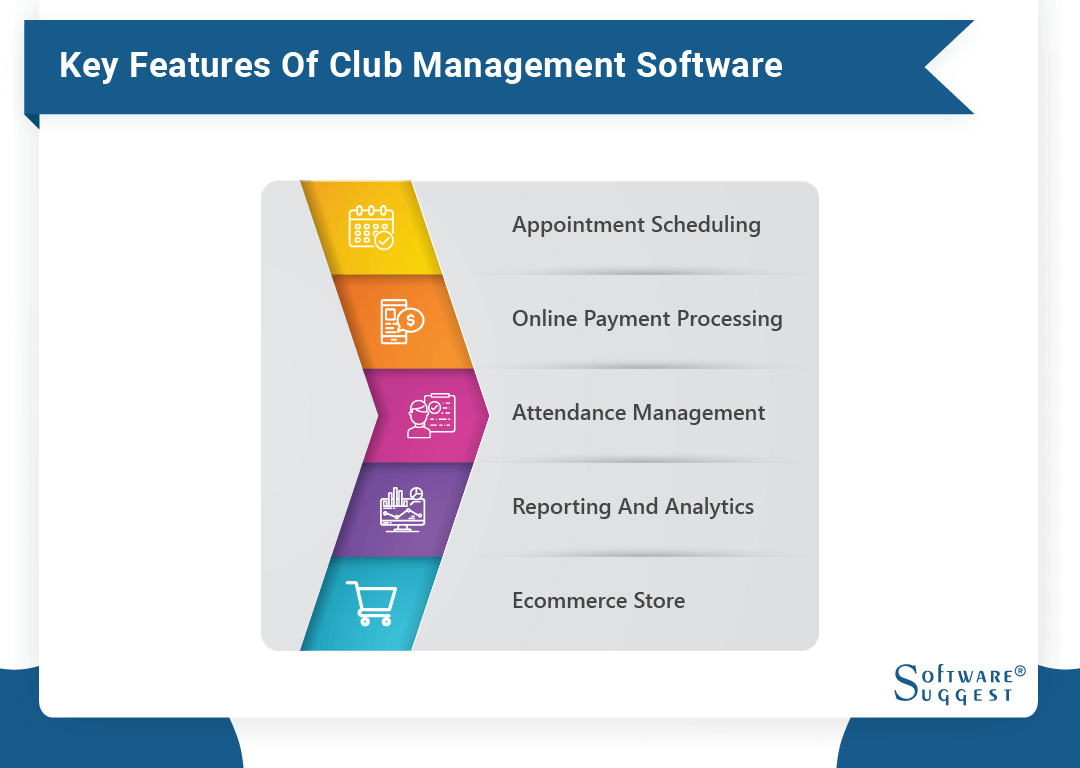 Here are some of the critical functionalities of the top club management software:
1. Appointment Scheduling
Your staff members can easily book appointments or reschedule sessions and using the staff portal. For instance, in a gym, personal trainers can instantly look at their schedule and book appointments for the available slots.
Furthermore, it allows you to send reminders about the upcoming appointments via email or SMS.
2. Online Payment Processing
Club management systems generally come with a built-in payment processing module. It makes it easy to accept membership payment online via various mediums, including credit cards, UPI, cash wallets, etc.
3. Attendance Management
The attendance management module is there to keep track of the attendance of both the staff members as well as the clients. Staff members and clients can easily check-in and check out without entering the timings every day manually. It can connect with smart devices and gadgets, or even with members' smartphones to enable barcode scanning or biometric for check-ins and check-outs.
Besides, it keeps track of all the leave requests, holidays pending, extra hours worked, etc. Thus, businesses can accurately calculate their staff's salary and process the payment timely.
4. Reporting And Analytics
Another significant tool is reporting and analytic functionalities that can generate reports on various aspects of business operations. Some of these include monthly sales, number of new members enrolled, inventory, equipment, profits, etc.
These reports can then be analyzed to study the overall performance level of the club. You can identify which department needs improvement, what more service can be added, which service is not gaining much traction from clients, and much more.
5. Ecommerce Store
In the past years, eCommerce stores have become increasingly popular. People nowadays like to buy things online in the comfort of their homes. Club owners are taking advantage of this trend and trying to sell their club equipment online.
Ecommerce features allow gyms, health centers, etc. to sell their products such as supplements, gears, and more from the software itself. Besides, all the transaction details are stored in the member's profile.
There are hundreds of club management system software available in the market today. Each has its own capabilities. However, there are certain factors that you should consider before making your final purchase. Some of these are:
1. Easy-to-Use Interface
This is one of the factors that can't be overlooked. It's essential that the software has a rich and intuitive interface so that users do not have trouble using it. It should offer a responsive and interactive dashboard with easy navigation so that staff members don't have to spend much time finding different modules.
2. Seamless Integration
Depending on the cost, not every club management solution comes with an inbuilt payment gateway. In such cases, you might want to integrate with some third-party applications to be able to process payments online. This is why seamless integration is crucial if you want to expand the functionalities of your application.
3. Scalability
Choose a solution that can scale as your business starts to grow. When the number of club members begins to grow, you will need a solution that can manage a vast database. Changing your software again is not a feasible solution. That's why go for a system that offers scalability and flexibility in its functionalities.
4. Customization
Customization of software means you can add or delete modules as per your requirements. Having too many features that you might not need will only slow down your system. Highly customizable solutions make it easy to tweak the solutions whenever you need a new module.
5. Mobile-Friendly
Another notable factor to consider is whether the system supports mobile devices or not. Your club members should be able to book their slots from their mobile devices themselves. It is no longer a 'nice-to-have' feature. If you want to retain your clients, you need to provide them value.
Having a unique app for your members can also help you attract more members. For instance, people who are interested in joining your club can directly sign up on the app and make the payment online. Convenience is the key to customer satisfaction.
6. Vendor Customer Support
Even after you have purchased the software, you will continuously need your vendor's support. There could be times when your system crashes unexpectedly. In such time, it's better to choose a vendor that offers 24*7 service for immediate assistance. Otherwise, it can disrupt your day's operations.
There are several club types, each with its requirements. These clubs, whether leisure-based or health-inspired, enable people to connect with like-minded individuals.
Many software developers have taken advantage of this market opportunity and have developed dedicated software for different types of clubs.
1. Fitness And Health Club Management Software
It caters to the gym and health club segments. It might include martial art studios, fitness clubs, and yoga centers. Additionally, it might offer features for conducting online training sessions, managing health charts, and workout plans.
2. Sports Club Management Software
This sports club management system is designed, keeping in mind the needs of players, coaches, and games. It enables game scheduling, equipment tracking, player scheduling, and other related functionalities.
3. Country Club Management Software
This section serves the needs of golf courses and private club restaurants. It can streamline the entire process, thereby making it easy to run a private club.
Showing
1
-
25
of
145
products
Wellyx is top ranked fitness and wellness business management software with latest technology features like members management, lead management, appointment scheduling, staff management, point of sale system and so on. View Profile
#1
ClubManager is known as the emerging world leader in membership management software. ClubManager is chosen by gyms, martial arts clubs, dance schools, golf and racket clubs and many more. It's free to transfer from your current system with a free 14-day trial. View Profile
#2
Tally.ERP 9 is a business accounting software for accounting, inventory, payroll management. It is economical and one of the most popular ERP software solutions available in the industry. You can download free version of Tally.ERP 9. View Profile
#3
BillSoft is the fastest growing GST compliant billing software in India and comes with a very friendly user interface. Now manage your business with lightning speed using multi-core data engine from clients to sale, purchase to inventory, staff to expense. View Profile
#4
Fitness NU is a Gym Management CRM application offering a hassle-free maintenance of customer data. The best features provided by us are biometric integration, fitness assessment, and auto-renewal alerts. View Profile
#5
Advicefit is club management software at a very affordable price. It has very useful features such as enquiry management, member management, member subscription, payments, package renewals, customer engagement, biometric attendance, and daily email report. View Profile
#6
Easiest and simplicity, Web-based GUI, Strong architecture for faster performance, multi-currency print outs. 360HMS is a complete solution provider for hospitality Industries. View Profile
#7
MINDBODY, the predominant provider of Saas base Business management software to the wellness industry. It also support a tailored mobile app solution. MINDBODY software has turned that sight into the technology that links tens of thousands of health, wellness, and beauty professionals to the millions of clients they serve. View Profile
#8
Ontro Biz is a powerful and productive platform to manage academy/club type business. It is completely free for small and starter packages. Available on Desktop, Mobile Web, and Mobile Applications View Profile
#9
FitnessForce is an easy effective and economical web-based software that helps handle all business activities from anywhere. FitnessForce helps meet business needs without any hassles. View Profile
#10
SkoolApp's USP is white labeling, and keep up with the modern age, robotics and data science. We have 2 major bundles: Communication Modules and Operational Modules Communication modules allow all types of communication between institutions and their clients. View Profile
#11
Complete youth sports management platform for sports clubs, academies, teams, coaches, athletes, and parents. Unique platform to manage all aspects of a youth sports organization. Integrated team management app which helps to keep all team members on the same page. View Profile
#12
This is a complete set of club management Software designed to computerize all essential activities of various types of clubs. It is smartly designed for clubs aiming at easy maintenance with low-end hardware and resources. View Profile
#13
WINHMS Golf comprehensively automates Tee time bookings, pro-shop billing and inventory, and member management. Optionally it supports web-based Tee time booking through internet for members and other guests. View Profile
#14
The process of admitting a new member to managing the monthly statements of members' expenses is a complex activity, which could lead to ennui and errors. CMS is a web-based application designed to meet the vagaries of a club's operations ranging from an exclusive membership of under 100 to a highly popular one that boasts of tens of thousands of members. View Profile
#15
ICM is a fantastic tool that care our community, associations, clubs, societies, families and groups which helps to manage our organization, build and keeps intact relation among members, collection and accounting of revenue and expenses, timely reminders of task and commitments, track assets and investments, stream line communication etc. View Profile
#16
Associate is a comprehensive solution for Associations, Communities & Groups to manage their memberships and communication. Associate Notifies members about events, due dates and automates your association's membership subscription process with automated email/SMS notifications and Payment gateways. View Profile
#17
MONK CLUBS is a Club Management Software. it easier, faster, and more affordable to manage daily operations. our web-based club management software, allows you to efficiently manage memberships, schedule classes, and process point-of-sale transactions while providing your members with the ease of online registration and payments. View Profile
#18
Studio owners have now a new tool for growing and nurturing their business the Eversports Studio Manager, suited for all Yoga, Pilates, Dance, CrossFit, Fitness and EMS studios. View Profile
#19
Gymex Club Management software is cloud based CRM for Health clubs to manage their daily activity e.g. prospect handling, membership purchase, reports, sales and marketing, access control, appointments and classes and follow up and many more features. View Profile
#20
AptusSoft offers a most comprehensive, integrated package of club management software and service. AptusSoft connects every aspect of club operations, including front-desk, HR, marketing, scheduling, and security, helping you to save money and time. View Profile
#21
Keep Information at Your Fingertips, Manage your employees, the responsive system lets retrieve information from any device and any location, POS system support, tea time scheduling, starter activity management, tea time pricing, Managing the store and etc. View Profile
#22
Replace your club/association/organization etc printed directory/roster with this unique mobile app. Have your groups' entire information and activity on your mobile. Reduce whatsapp clutter and increase communication efficiency. View Profile
#23
Comprehensive restaurant and bar management software. Highly configurable workflow to cater to various needs of hospitality industry. 14 Years in the market and offer best of the technology, and quality support provided. View Profile
#24
Chronogolf facilitates interactions between golf courses and golfers by leveraging web applications, cloud infrastructure, and mobility. Our mission focuses on developing intuitive cloud-based applications that increase revenue while helping to reduce operating costs. View Profile
#25
Frequently Asked Questions (FAQs)
A. You will find both free and paid versions of club management software. However, the free version will come with a limited number of users and functionalities. For the paid version, the price varies based on factors like functionalities, the number of users, and vendor support. It ranges from about $50-$100 per user/admin per month.
A. Listed below are some of the best club management software in India:
1. Clubessentials
2. Jonas Club Software
3. Gym Master
4. CSI
5. ActiveNet Club Management
A. Yes, you can. A club management system helps users manage sports teams, yoga studios, dance studios, martial art clubs, fitness centers, and other private clubs.
A. It entirely depends on your requirements. An offline

fitness management software

makes it easy to use the system even when there is no internet connection. However, it can be quite expensive to install.
Club Management software in following industries